Aluminum Alloy 9050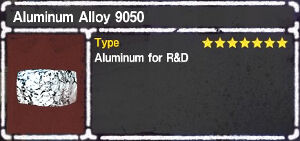 Aluminum Alloy 9050 is a Tier 7 Aluminum-type Material for developing and upgrading weapons and armor at Chokufunsha.
As a 7-Star Material, Aluminum Alloy 9050 only appears on Aluminum-specific floors in TENGOKU. It becomes more common the higher you climb.
May also be obtained as a reward from Lost Bags, appear in the daily Hernia lineup, and be bought once-per-day in the Bloodnium Exchange for
2000.
Aluminum-specific Floors

| Floor | Name | Rotation |
| --- | --- | --- |
| 56F+ | TENGOKU | 63F, 71F, 78F, 86F, etc. |
NOTE: Tier is a level of power typically based on the number of times equipment has changed forms, not the number of stars it has.
Currently, it takes 1245 of the Aluminum Alloy 9050 to complete its uses.