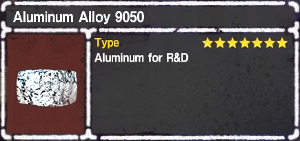 Aluminum Alloy 9050 is a 7-Star Aluminum-type R&D Material for developing and upgrading weapons and armor at Choku-Funsha.
Locations
[
]
Aluminum Alloy 9050 only appears on Aluminum-specific floors in Tengoku. It becomes more common above 100F.
Can be bought for
2000 Bloodnium in the Bloodnium Exchange, or from the daily Hernia lineup (if available) for

20000 /

4 (for x1) or

80000 /

16 (for x5). Drops from Platinum Lost Bags.
Aluminum-specific Floors

| Floor | Name | Rotation |
| --- | --- | --- |
| 56F+ | TENGOKU | Aluminum-specific Floors:56F, 63F, 71F, 78F,86F, 93F, 101F, 108F,116F, 123F, 131F, 138F,146F, 153F, 161F, 168F,176F, 183F, 191F, 198F,206F, 213F, 221F, 228F,236F, 243F, 251F, 258F,266F, 273F, 281F, 288F,296F, 303F, 311F, 318F,326F, 333F, 341F, 348F |
Uses
[
]
For all non-Event gear, it currently takes 1157 Aluminum Alloy 9050 to complete its uses. Event gear uses an additional 138, for a complete total of 1295.
NOTE: Tier is a level of power typically based on the number of times equipment has changed forms, not the number of stars it has.