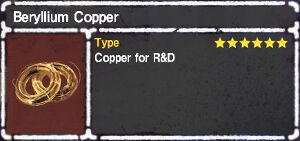 Beryllium Copper is a 6-Star Copper-type Material for developing and upgrading weapons and armor at Chokufunsha.
Locations
[
]
As a 6-Star Material, Beryllium Copper only appears on Copper-specific floors in the 40's and TENGOKU. It becomes more common the higher you climb.
May also be obtained as a reward from Lost Bags, appear in the daily Hernia lineup, and be bought once-per-day in the Bloodnium Exchange for
1500.
Available Floors

| Floor | Name | Rotation | Notes |
| --- | --- | --- | --- |
| 47F | ARATADEN | ALL | |
| 47F | HAMA-NUSHIKA | ALL | |
| 50F | NAKA-WARA | ALL | Leads to Tengokumon on Floor 51. Once you get to it you can return to the waiting room at anytime. |
| 58F+ | TENGOKU | ALL | Copper-specific Floors: 66F, 73F, 81F, 88F, 96F, 103F, 111F, 118F, 126F, 133F, 141F, 148F, 156F, 163F, 171F, 178F, 186F, 193F, 201F, 208F, 216F, 223F, 231F, 238F, 246F, 253F, 261F, 268F, 276F, 283F, 291F, 298F, 306F, 313F, 321F, 328F, 336F, 343F, 351F |
Uses
[
]
For all non-Event gear, it currently takes 531 Beryllium Copper to complete its uses. Event gear uses an additional 66, for an complete total of 597.
NOTE: Tier is a level of power typically based on the number of times equipment has changed forms, not the number of stars it has.
Trivia
[
]
In its real-world applications, beryllium is usually alloyed with copper to remove more dangerous properties from a purer form of the latter, most notably its ease of sparking and high magnetism. Doing so also increases the overall strength of the material, making it ideal for items that must keep their shape over time.