Black Coal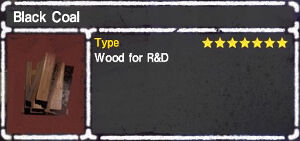 Black Coal is a 7-Star Wood-type Material for developing and upgrading weapons and armor at Chokufunsha.
As a 7-Star Material, Black Coal only appears on Wood-specific floors in TENGOKU. It becomes more common the higher you climb.
May also be obtained as a reward from Lost Bags, appear in the daily Hernia lineup, and be bought once-per-day in the Bloodnium Exchange for
2000.
Wood-specific Floors

| Floor | Name | Rotation |
| --- | --- | --- |
| 53F+ | TENGOKU | 61F, 68F, 76F, 83F, etc. |
NOTE: Tier is a level of power typically based on the number of times equipment has changed forms, not the number of stars it has.
Currently, it takes at least 912 Black Coal to complete its uses.
Black Coal is a form of coal that is notably soft, at least when compared relatively to the other types within its family. It is created mainly by decomposition and compression of dead plant material over an incredibly long time. In most situations, it is not used for the construction of actual items, but rather for burning to form certain types of steel (as well as other more niche uses).