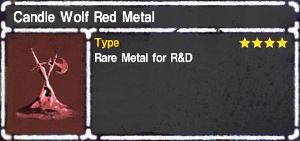 Candle Wolf Red Metals are 4-Star Faction Metals for developing and upgrading weapons and armor at Choku-Funsha.
Locations
[
]
Candle Wolf Red Metals drop from the Candle Wolf Mid-Boss, GOTO-9, on 36F ITANODAI. He may drop damaged Candle Wolf equipment or Kill Coins instead.
Drops in Gunkanyama's Area (31-40F) from Gold Chests; found in Trap Rooms or from Haters. In the Battle To The Top area (41F+), this metal may be found in Gold Chests from the Treasure Rooms on dead-end floors. Hardcore Haters above 41F and in Tengoku may drop this from Gold Chests at a low rate. White Steel and Black Thunder have a chance to drop this metal on Hard difficulty.
Red Metals may be a reward in Tengoku up to (and including) 100F. They may be in Gold Chests (but not the Legendary Chest) on Boss Floors, or drop directly from either Treasure Tubers or the corresponding faction Mid-Boss. Gold Chests from Hardcore Haters can drop them at any floor, but at a much, much lower rate.
Can be bought for

50000 KC from Gyaku-Funsha,

125000 RE-Points from the R-Point Exchange, or with

10 (for x1) / 40 (for x5) Death Metals if appearing in the daily Hernia lineup.
Can be received as a reward from Quests, Gold / Platinum Lost Bags, or Gold Box Uncle Prime.
Available Floors
Floor
Name
Rotation
Notes
Floors in BOLD connect to the main elevator.
27F
YUKIYOSHI
WED / FRI / SUN
SHOP: 50000
32F
KOSHI-YAMA
ALL
TRAP: Red or Black Metals.Mk-4 Bone Tuber, two Screamers.
33F
UCHINOBU
ALL
SHOP: 50000
35F
WAKABA
ALL
TRAP: Red or Black Metals.4 Mk-5 Scratch, Mk-5 Hover, a Screamer.
36F
ITANODAI
ALL
BOSS: GOTO-9
38F
YATAKA-CHO
ALL
TRAP: Red or Black Metals.Five Screamers one after another.
39F
HARATSUKA
ALL
SHOP: 50000
45F
DOAME
ALL
Treasure Room.Chest has a Purple, Red or Black Metal.Will return you to the Waiting Room.
45F
GIOU
ALL
46F
TAHEI
ALL
47F
SAMINO
ALL
48F
KIBARASE
ALL
48F
JUSENJU
ALL
49F
FUWA
ALL
49F
NERI
ALL
50F
NAKA-WARA
ALL
Treasure Room.Chest has a Purple, Red or Black Metal.Leads to 51F TENGOKUMON.
55F -100F
TENGOKU
ALL
Every 5th floor (55, 60, 65 etc.) up to 100F.
Uses
[
]
For all non-Event gear, it currently takes 1465 Candle Wolf Red Metal to complete its uses. Event gear uses an additional 87, for a complete total of 1552.
NOTE: Tier is a level of power typically based on the number of times equipment has changed forms, not the number of stars it has.