Chrome-Moly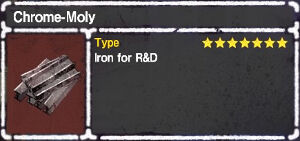 Chrome-Moly is a 7-Star Iron-type Material for developing and upgrading weapons and armor at Chokufunsha.
As a 7-Star Material, Chrome-Moly only appears on Iron-specific floors in TENGOKU. It becomes more common the higher you climb.
May also be obtained as a reward from Lost Bags, appear in the daily Hernia lineup, and be bought once-per-day in the Bloodnium Exchange for
2000.
Iron-specific Floors

| Floor | Name | Rotation |
| --- | --- | --- |
| 54F+ | TENGOKU | 62F, 69F, 77F, 84F, etc. |
NOTE: Tier is a level of power typically based on the number of times equipment has changed forms, not the number of stars it has.
Currently, it takes at least 1172 Chrome-Moly to complete its uses.
Formally referred to as 41xx Steel, the Chrome-Moly family is an extremely versatile set of steel alloys. It is notable for its ability to be formed in such a way that it is hard on the outermost layer while being softer on the inside, allowing the metal itself to be scratch-resistant without becoming brittle all the way through.