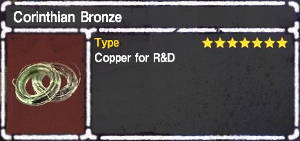 Corinthian Bronze is a 7-Star Copper-type R&D Material for developing and upgrading weapons and armor at Choku-Funsha.
Locations
[
]
Corinthian Bronze only appears on Copper-specific floors in Tengoku. It becomes more common above 100F.
Can be bought for
2000 Bloodnium in the Bloodnium Exchange, or from the daily Hernia lineup (if available) for

20000 /

4 (for x1) or

80000 /

16 (for x5). Drops from Platinum Lost Bags.
Copper-specific Floors

| Floor | Name | Rotation |
| --- | --- | --- |
| 58F+ | TENGOKU | Copper-specific Floors:58F, 66F, 73F, 81F,88F, 96F, 103F, 111F,118F, 126F, 133F, 141F,148F, 156F, 163F, 171F,178F, 186F, 193F, 201F,208F, 216F, 223F, 231F,238F, 246F, 253F, 261F,268F, 276F, 283F, 291F,298F, 306F, 313F, 321F,328F, 336F, 343F, 351F |
Uses
[
]
For all non-Event gear, it currently takes 1097 Corinthian Bronze to complete its uses. Event gear uses an additional 114, for a complete total of 1211.
NOTE: Tier is a level of power typically based on the number of times equipment has changed forms, not the number of stars it has.
Trivia
[
]
Corinthian Bronze was a high-grade form of bronze which was mainly referenced in texts from around the 1st millennia BC onward. It was heralded as a high quality alloy of copper with another type of precious metal, usually silver or gold. While it was disputed even during its time, one legend of the materials creation posits that it was formed during the burning of the ancient city of Corinth by pure accident. As noted, this was most likely disproved once it was seen that there were uses of the metal in earlier times, though it is was still extremely valuable during its time for the high quality of its production.