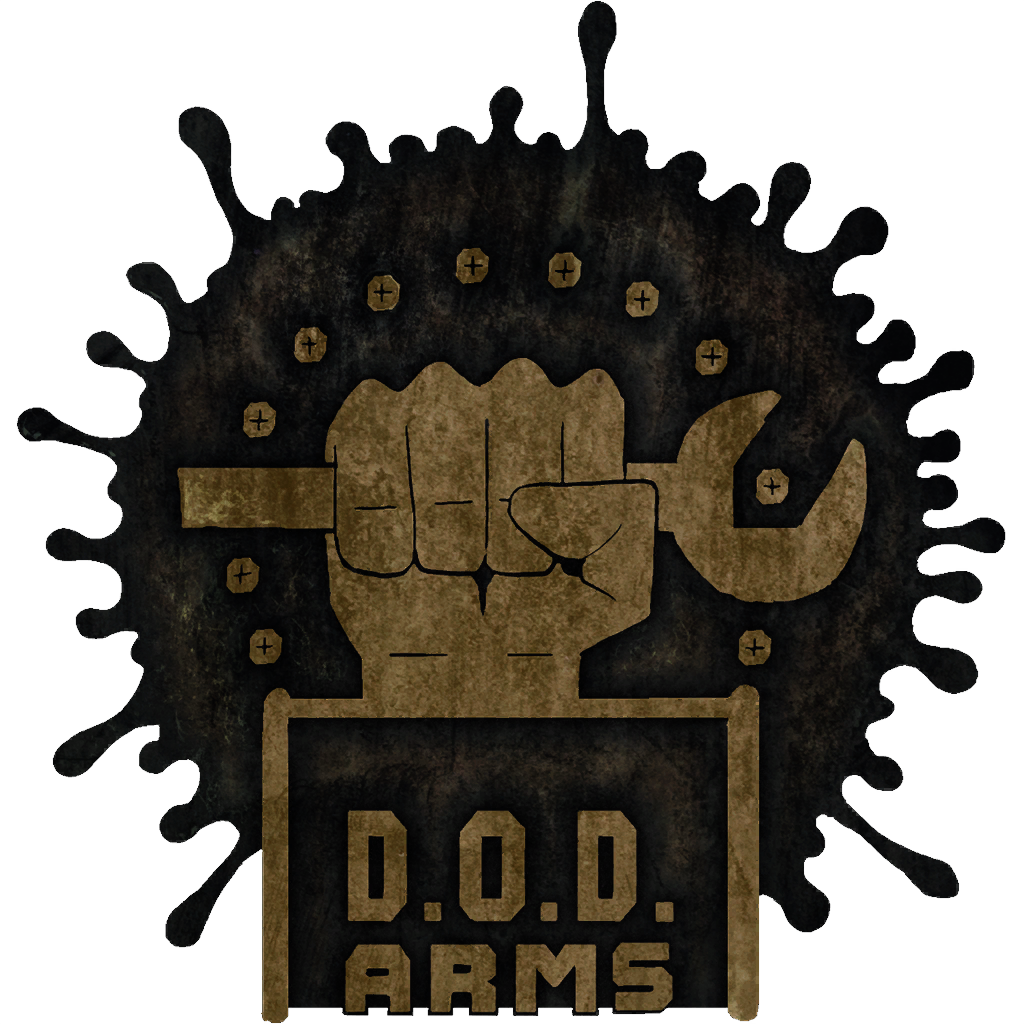 D.O.D. ARMS is a faction within the Tower of Barbs. Its leader is the 10th floor Don, Max Sharp.
Seven types of rare metal exist for this faction: D.O.D. ARMS Blue Metal, D.O.D. ARMS Green Metal, D.O.D. ARMS Black Metal, D.O.D. ARMS Red Metal, D.O.D. ARMS Purple Metal, D.O.D. ARMS Orange Metal, and D.O.D. ARMS Platinum Metal. D.O.D. ARMS metals can be obtained as drops by Max or COEN, found in the gold chest of any Trap Room, or bought from Gyaku-funsha. They may also be awarded by Quests. It can also appear in Tengoku as well.
The acronym in the name, D.O.D., stands for DIY or Die. This is referenced on the Trucker Apron, which sports the phrase "Do it your self or Fucking Die!!!!" A mock version of the slogan can be found in the Candle Wolf district, in graffiti on the walls that reads "Die or Die."
White Steel is also home to the D.O.D. ARMS territory for the Four Forcemen area on floors 4, 5, and 8 he can be encountered for Sunday and Wednesday.
Equipment
[
]
There are currently 41 pieces of equipment (not including upgrades) classified as D.O.D. ARMS items. They tend to be DIY-themed, made from household tools and various workers' uniforms.
Weapons
[
]
The Spike Crusher and Static Massager can only be found in White Steel's area on Hard and Nightmare
Head Armor
[
]
Tier 1 Base
Tier 2 Upgrade
Tier 3 Upgrade
Tier 4 Upgrade
Uncapped
HP
STM
STR
DEX
VIT
LUK
★
DIY Attack Head
★★
DIY Attack Head +
★★★
DIY Assault Head
★★★★
DIY Assault Head +
★★★★
DIY Assault Head +
+5%
-
-
+9%
-
-
★
Doctor Drill Mask
★★
Doctor Drill Mask +
★★★
Driller Killer Mask
★★★★
Driller Killer Mask +
★★★★
Driller Killer Mask +
+12%
+5%
-
+5%
-5%
-
★
Trucker Hat
★★
Trucker Hat +
★★★
Battle Trucker Hat
★★★★
Battle Trucker Hat +
★★★★
Battle Trucker Hat +
+5%
-
-
-
+5%
-
★
Steel Soldier Mask
★★
Steel Soldier Mask +
★★★
Steel God Mask
★★★★
Steel God Mask +
★★★★
Steel God Mask +
+12%
-
-
-5%
+5%
-
★★
Steel Tribe Mask
★★★
Steel Tribe Mask +
★★★★
Steel Madman Mask
★★★★★
Steel Madman Mask +
★★★★★
Steel Madman Mask +
+5%
+5%
-
+12%
-5%
-
★★★
Power Stomper Mask
★★★★
Power Stomper Mask +
★★★★★
Alien Roadster Mask
★★★★★★
Alien Roadster Mask +
★★★★★★
Alien Roadster Mask +
+5%
+5%
-
-
+9%
-
★
Texas Farmer Mask
★★
Texas Farmer Mask +
★★★
Texas Slasher Mask
★★★★
Texas Slasher Mask +
★★★★
Texas Slasher Mask +
-
+9%
-9%
-
+5%
-
★
Road Shocker Head
★★
Road Shocker Head +
★★★
Road Killer Head
★★★★
Road Killer Head +
★★★★
Road Killer Head +
+9%
-9%
-
+5%
-
-
★★★
Happy Wheeler Head
★★★★
Happy Wheeler Head +
★★★★★
Wheel Assassin Head
★★★★★★
Wheel Assassin Head +
★★★★★★
Wheel Assassin Head +
+5%
-
-
-
+12%
-
★★★
Violent Grinder Head
★★★★
Violent Grinder Head +
★★★★★
Suicidal Grinder Head
★★★★★★
Suicidal Grinder Head +
★★★★★★
Suicidal Grinder Head +
+10%
-
-
-5%
+9%
-
★★★★★★
White Steel Head
★★★★★★
White Steel Head
+2%
-
-
-
+8%
-
Body Armor
[
]
Tier 1 Base
Tier 2 Upgrade
Tier 3 Upgrade
Tier 4 Upgrade
Uncapped
★
DIY Attack Coat
★★
DIY Attack Coat +
★★★
DIY Assault Coat
★★★★
DIY Assault Coat + EL**
★★★★
DIY Assault Coat + EL**
-
-
-9%
+5%
+5%
+9%
★
Doctor Drill Body
★★
Doctor Drill Body +
★★★
Driller Killer Body
★★★★
Driller Killer Body +
★★★★
Driller Killer Body +
-
-
-5%
+9%
+13%
-
★
Trucker Apron
★★
Trucker Apron +
★★★
Battle Trucker Apron
★★★★
Battle Trucker Apron +
★★★★
Battle Trucker Apron +
+5%
-
-5%
+9%
+5%
-5%
★
Steel Soldier Apron
★★
Steel Soldier Apron +
★★★
Steel God Apron
★★★★
Steel God Apron +
★★★★
Steel God Apron +
-5%
-5%
-5%
+13%
+5%
-
★★
Steel Tribe Body
★★★
Steel Tribe Body +
★★★★
Steel Madman Body
★★★★★
Steel Madman Body +
★★★★★
Steel Madman Body +
-5%
-5%
-5%
+9%
+9%
-
★★★
Power Stomper Body
★★★★
Power Stomper Body +
★★★★★
Alien Roadster Body
★★★★★★
Alien Roadster Body +
★★★★★★
Alien Roadster Body +
-
+5%
-5%
+5%
-5%
+5%
★
Texas Farmer Coat
★★
Texas Farmer Coat +
★★★
Texas Slasher Coat
★★★★
Texas Slasher Coat +
★★★★
Texas Slasher Coat +
-5%
-
-5%
+5%
+13%
-
★
Road Shocker Coat
★★
Road Shocker Coat +
★★★
Road Killer Coat
★★★★
Road Killer Coat +
★★★★
Road Killer Coat +
-5%
-
-5%
+13%
-5%
+9%
★★★
Happy Wheeler Body
★★★★
Happy Wheeler Body +
★★★★★
Wheel Assassin Body
★★★★★★
Wheel Assassin Body +
★★★★★★
Wheel Assassin Body +
-
-5%
-5%
+9%
+9%
-
★★★
Violent Grinder Body
★★★★
Violent Grinder Body +
★★★★★
Suicidal Grinder Body
★★★★★★
Suicidal Grinder Body +
★★★★★★
Suicidal Grinder Body +
+5%
+9%
-
+9%
+9%
-9%
This cosmetic blueprint of the DIY Attack Coat will cost you Death Metals
Leg Armor
[
]
Tier 1 Base
Tier 2 Upgrade
Tier 3 Upgrade
Tier 4 Upgrade
Uncapped
★
DIY Attack Pants
★★
DIY Attack Pants +
★★★
DIY Assault Pants
★★★★
DIY Assault Pants +
★★★★
DIY Assault Pants +
-
-
-5%
+5%
+5%
+9%
★
Doctor Drill Pants
★★
Doctor Drill Pants +
★★★
Driller Killer Pants
★★★★
Driller Killer Pants +
★★★★
Driller Killer Pants +
-
-
-5%
+9%
+13%
-
★
Trucker Pants
★★
Trucker Pants +
★★★
Battle Trucker Pants
★★★★
Battle Trucker Pants +
★★★★
Battle Trucker Pants +
+5%
-
-5%
+9%
+5%
-5%
★
Steel Soldier Pants
★★
Steel Soldier Pants +
★★★
Steel God Pants
★★★★
Steel God Pants +
★★★★
Steel God Pants +
-5%
-5%
-5%
+13%
+5%
-
★★
Steel Tribe Pants
★★★
Steel Tribe Pants +
★★★★
Steel Madman Pants
★★★★★
Steel Madman Pants +
★★★★★
Steel Madman Pants +
-5%
-5%
-5%
+9%
+9%
-
★★★
Power Stomper Pants
★★★★
Power Stomper Pants +
★★★★★
Alien Roadster Pants
★★★★★★
Alien Roadster Pants +
★★★★★★
Alien Roadster Pants +
-
+5%
-5%
+5%
-5%
+5%
★
Texas Farmer Pants
★★
Texas Farmer Pants +
★★★
Texas Slasher Pants
★★★★
Texas Slasher Pants +
★★★★
Texas Slasher Pants +
-5%
-
-5%
+5%
+13%
-
★
Road Shocker Pants
★★
Road Shocker Pants +
★★★
Road Killer Pants
★★★★
Road Killer Pants +
★★★★
Road Killer Pants +
-5%
-
-5%
+13%
-5%
+9%
★★★
Happy Wheeler Pants
★★★★
Happy Wheeler Pants +
★★★★★
Wheel Assassin Pants
★★★★★★
Wheel Assassin Pants +
★★★★★★
Wheel Assassin Pants +
-
-5%
-5%
+9%
+9%
-
★★★
Violent Grinder Pants
★★★★
Violent Grinder Pants +
★★★★★
Suicidal Grinder Pants
★★★★★★
Suicidal Grinder Pants +
★★★★★★
Suicidal Grinder Pants +
+5%
+9%
-
+9%
+9%
-9%