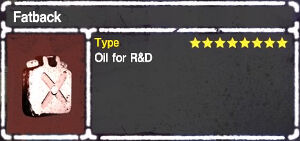 Fatback is an 8-Star Oil-type R&D Material for developing and upgrading weapons and armor at Choku-Funsha.
Locations
[
]
Fatback can rarely appear in Tengoku on Oil-specific floors above 80F.
Can be bought for
2500 Bloodnium in the Bloodnium Exchange.
Oil-specific Floors

| Floor | Name | Rotation |
| --- | --- | --- |
| 87F+ | TENGOKU | Oil-specific Floors:87F, 94F, 102F, 109F,117F, 124F, 132F, 139F,147F, 154F, 162F, 169F,177F, 184F, 192F, 199F,207F, 214F, 222F, 229F,237F, 244F, 252F, 259F,267F, 274F, 282F, 289F,297F, 304F, 312F, 319F,327F, 334F, 342F, 349F |
Uses
[
]
For all non-Event gear, it currently takes 493 Fatback to complete its uses. Event gear uses an additional 37, for a complete total of 530.
NOTE: Tier is a level of power typically based on the number of times equipment has changed forms, not the number of stars it has.
Trivia
[
]
Fatback is made out of lard where it can be used for frying pork like pigs for example.