Hovering Metal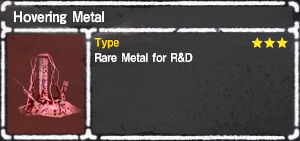 Hovering Metal is an uncommon Tuber Metal used for developing Weapons and Armor at Chokufunsha.
Hovering Metal can be found in the following locations:
- Rare drop from Hovering Tubers.
- Purchased from Gyakufunsha for 30,000 KC.
- Rewards from certain types of Quests.
- Silver Treasure Chest drops from red-named Haters in Tengoku 51F and above.
NOTE: Tier is a level of power typically based on the number of times equipment has changed forms, not the number of stars it has.
It takes 851 Hovering Metals to complete all of its uses.