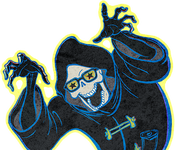 Welcome to the Let It Die Wiki!
Your guide to the Tower! 5 active editors are currently maintaining 876 articles (5,919 total pages) and 3,649 files. Read the Wiki rules.
Official Links:




· Community Links:



· Play Free:

Help Needed. Let It Die Wiki is short on editors. Please help us in any way you can.
About Let It Die
In the year 2026 AD, a large tectonic disturbance caused mass destruction around the world. In the midst of the destruction, South Western Tokyo split off into the ocean where the seismic activity caused a large spire to rise out of the ocean piercing the island creating a tower-like structure deemed holy by some. Under the watchful eye of Uncle Death, madness has spread across the world...
Fight your way to the top in this chaotic and pulp survival action taking free-to-play to a whole new level. Begin your journey in your underwear and survive by any means necessary while taking advice from Uncle Death, a skateboarding reaper. Rumor has it that a sacred treasure awaits at the top of the Tower of Barbs for those that survive the climb. Many dangers and mysteries remain hidden from the eyes of mankind and await those courageous enough to dare approach the tower.
Daily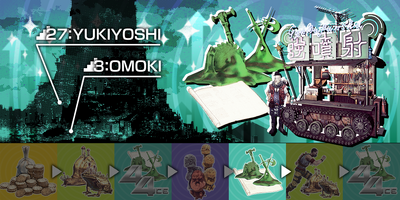 Friday's Tectonic Terror:
Gyakufunsha's Moving Cart!!
Area: 3F OMOKI & 27F YUKIYOSHI
Schedule: FRI 10:00 – SAT 09:59 (UTC)
Special: Increased rate for Gyakufunsha appearing in this area.
Tomorrow: Golden Beasts Galore & Hate Thy Neighbor!!
Daily Express Pass Login Bonus
Super Squeezer ★★★★
1 Death Metal
Increases ABP gained by 40%.
*Non-Premium decals are lost upon removal.
Tomorrow: Vitamin XXX + Splattershroom
TDM Season
TDM Battle Rush: Season 18
January 17th, 2022-March 28th, 2022
New Blueprints

Timber Rebellion
Violent Grinder Set
Available in Lost Bags until the end of Season 19.
Last Season's Blueprints

Archer's Bow
Combat Diver Set
Available in Lost Bags until the end of Season 18.Drops rates for last season's blueprints are reduced.
TDM Season Finale Rank Reward
TDM Saber
If you're in Diamond Rank when Season 18 ends on 3/28,
you'll receive the strongest form of the TDM Saber!
Silver / Gold / Platinum Rank forms cannot upgrade to a higher tier.
Hernia
Monthly Tengoku Weapon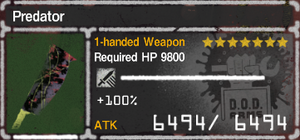 Predator ·

3000
This is a built weapon; not a blueprint.
Stock refreshes daily; weapon changes monthly.