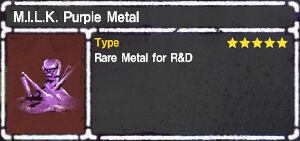 M.I.L.K. Purple Metal is a rare Faction Metal used for upgrading the highest tiers of Weapons and Armor at Chokufunsha.
Locations
[
]
Purple Metals are only obtainable from as a possible drop from Gold chests in Treasure rooms found on the floors 45-50
Gold chest/Treasure rooms are:
45F DOAME
45F GIOU
46F TAHEI
47F SAMINO
48F KIBARASE
48F JUSENJU
49F FUWA
49F NERI
50F NAKA-WARA
Note that a Purple Metal isn't guaranteed in most of the chests, only 50F NAKA-WARA gives a guaranteed Purple, but the higher the floor, the higher the chance.
May also be obtained as a reward from Lost Bags, appear in the daily Hernia lineup, and be bought once-per-day in the Bloodnium Exchange for
6000.
Uses
[
]
For all non-Event gear, it currently takes 527 to complete its uses. Event gear uses an additional 146, for an complete total of 667.
NOTE: Tier is a level of power typically based on the number of times equipment has changed forms, not the number of stars it has.