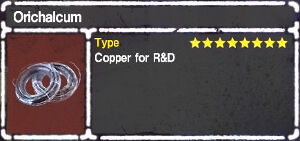 Orichalcum is an 8-Star Copper-type R&D Material for developing and upgrading weapons and armor at Choku-Funsha.
Locations
[
]
Orichalcum can rarely appear in Tengoku on Copper-specific floors above 80F.
May also be bought once-per-day in the Bloodnium Exchange for
2500.
Copper-specific Floors

| Floor | Name | Rotation |
| --- | --- | --- |
| 81F+ | TENGOKU | Copper-specific Floors:81F, 88F, 96F, 103F,111F, 118F, 126F, 133F,141F, 148F, 156F, 163F,171F, 178F, 186F, 193F,201F, 208F, 216F, 223F,231F, 238F, 246F, 253F,261F, 268F, 276F, 283F,291F, 298F, 306F, 313F,321F, 328F, 336F, 343F,351F |
Uses
[
]
For all non-Event gear, it currently takes 755 Orichalcum to complete its uses. Event gear uses an additional 40, for a complete total of 795.
NOTE: Tier is a level of power typically based on the number of times equipment has changed forms, not the number of stars it has.
Trivia
[
]
In ancient Greek and Roman culture, Orichalcum was considered to be one of the most valuable metals mined in its period. It is believed to have been an alloy of both gold and copper, forming a type of bronze that was used very sparsely due to its rarity during the time.