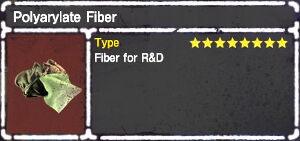 Polyarylate Fiber is an 8-Star Fiber-type R&D Material for developing and upgrading weapons and armor at Choku-Funsha.
Locations
[
]
Polyarylate Fiber only appears rarely on Fiber-specific floors in Tengoku above 80F.
Can be bought for
2500 Bloodnium in the Bloodnium Exchange.
Fiber-specific Floors

| Floor | Name | Rotation |
| --- | --- | --- |
| 82F+ | TENGOKU | Fiber-specific floors:82F, 89F, 97F, 104F,112F, 119F, 127F, 134F,142F, 149F, 157F, 164F,172F, 179F, 187F, 194F,202F, 209F, 217F, 224F,232F, 239F, 247F, 254F,262F, 269F, 277F, 284F,292F, 299F, 307F, 314F,322F, 329F, 337F, 344F |
Uses
[
]
For all non-Event gear, it currently takes 878 Polyarylate Fiber to complete its uses. Event gear uses an additional 56F, for a complete total of 934.
NOTE: Tier is a level of power typically based on the number of times equipment has changed formsF, not the number of stars it has.
Trivia
[
]
Polyarylate Fiber is made out of acrylic cloth that is pretty softF, and warm.