About Red Napalm
[
]
Red Napalm is the second of the Four "Forcemen", A group of bosses added to the Tower of Barbs. She represents the War Ensemble Faction. First arriving in the game on June 27th, 2017; She exists as an extra challenge to players, with the rewards being anywhere from Kill coins, Random Blueprints, her Red Napalm Armor blueprints and to even her unique weapon.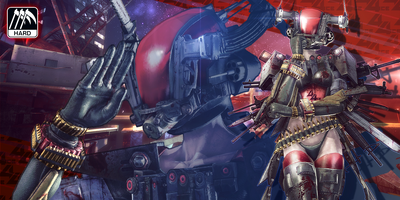 Description
[
]
A Tall Female Fighter, wearing somewhat revealing red armor, with wings on the back made out of guns and wielding a large gatling-style gun, where instead of multiple barrels, it has multiple guns on it.
Red Napalm's Location and Pricing
[
]
There are currently 3 difficulties of Red Napalm, each in separate rooms in the War Ensemble Faction area on floors 12F: FUGA-DOKORO, 14: FUNE-HASHI and 17F: KYUZAKA. Each floor contains a different difficulty version and Kill Coin cost to fight her.
| Floor | Difficulty | Free Tries | Challenge Cost After Using the Free Tries |
| --- | --- | --- | --- |
| 12F FUGA-DOKORO | Normal | Free | 5,000 KC |
| 14F FUNE-HASHI | Hard** | Free | 30,000 KC |
| 17F KYUZAKA | Nightmare** | Free | 100,000 KC |
Her challenge rooms are an unique rotation timer and only appear on:
WED 3:00 AM – THU 2:59 AM (PDT)
SUN 3:00 AM – MON 2:59 AM (PDT)
Armor
[
]
Her total defensive stats are: -42% Blunt resistance, +32% Piercing resistance, +18% Fire resistance, -40% Electric resistance and +18% Poison resistance.[1]
Mushrooms
[
]
NOTE: Hard and Nightmare challenges will NEGATE any mushroom effects before entering.
During the fight Red Napalm has been confirmed to use a shockwave to dispel the effects of:
Guardshroom, Transparungus, Stingshroom, Golden Stingshroom, Vampire Fungus, Golden Vampire Fungus, Oakshroom, Snailshroom
It may still be possible to use some of the above mushrooms while she is stunned, such as Vampire Fungus.

After the player inflicts an attack on her, this will immediately dispel the effects of Slowmungus. However if the player does not use attacks Slowmungus will continue to work for it's full duration, so the effect may be used defensively.

The following mushrooms have been confirmed to work normally when eaten inside the arena:
Umbrella Rib Fungus, Cateye Shroom, Helmetshroom, Lifeshroom, Golden Lifeshroom, Red Stingshroom, Dragonshroom, Golden Dragonshroom, Toughshroom, Staminungus, Evershroom, Crushroom
Rewards
[
]
Upon defeating Red Napalm, the gate behind her opens up and reveals a single chest, with the possible reward depending on the difficulty Red Napalm was fought at.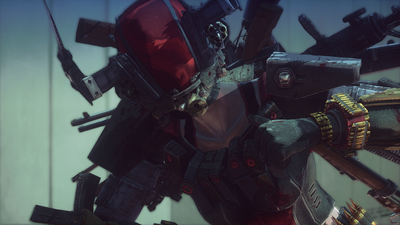 Potential Rewards:
Normal Difficulty
Kill Coins
Various Blueprints (Excluding Forcemen BPs)
Quests
[
]
| No. | Difficulty | Name | Category | Detail | Reward | Repeat Reward |
| --- | --- | --- | --- | --- | --- | --- |
| 204 | ★★ | Hunting Red Napalm #001 | Destroy | Defeat Red Napalm(NORMAL). | 1 Death Metal | 500 KC |
| 205 | ★★★ | Hunting Red Napalm #002 | Destroy | Defeat Red Napalm(HARD). | 3 Death Metals | 500 KC |
| 206 | ★★★★ | Hunting Red Napalm #003 | Destroy | Defeat Red Napalm(NIGHTMARE). | 5 Death Metals | 500 KC |