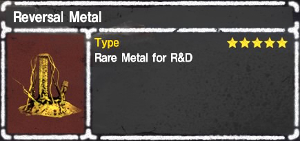 Reversal Metal is a very rare Tuber Metal used for developing Weapons and Armor at Chokufunsha.
Locations
[
]
Reversal Metal can be found on any floor as it is a rare drop from the Reversal Tuber type enemies.
You can also buy Reversal Metal from Gyaku-Funsha where it costs 50,000 KC.
Additionally you can get Reversal Metal from certain types of Quests.
On 34F Kohashi, there are 3 Reversal Tubers, that can drop Reversal Metal.
Alternatively, Tengoku is also a good way to obtain Reversal Metal as red named Haters above 51F drop Tuber Metals via Silver Treasure Chest drops.
Uses
[
]
For all non-Event gear, it currently takes 635 Reversal Metal to complete its uses. Event gear uses an additional 5, for a complete total of 640.
NOTE: Tier is a level of power typically based on the number of times equipment has changed forms, not the number of stars it has.
Tips
[
]
Farming Reversal Tubers is an outrageous waste of time. Buy Reversal metals from Gyakufunsha, or passively farm them from Hater chests that drop in Tengoku.