Reversal Metal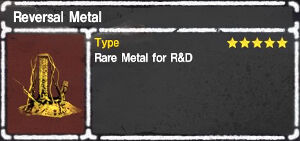 Reversal Metal is a very rare Tuber Metal used for developing Weapons and Armor at Chokufunsha.
Reversal Metal can be found on any floor as it is a rare drop from the Reversal Tuber type enemies.
You can also buy Reversal Metal from Gyaku-Funsha where it costs 50,000 KC.
Additionally you can get Reversal Metal from certain types of Quests.
On 34F Kohashi, there are 3 Reversal Tuber, that can drop Reversal Metal.
Alternatively, Tengoku is also a good way to obtain Reversal Metal as red named Haters above 51F drop Tuber Metals via Silver Treasure Chest drops.
NOTE: Tier is a level of power typically based on the number of times equipment has changed forms, not the number of stars it has.
Currently, it takes 541 Reversal Metals to complete all of its uses.
Farming Reversal Tuber material on 19F Daida, best floor layout from elevator, trap room on one side escalator on other. Take escalator up/down (20F Nora) till material spawns after kill, then reset at waiting room.