Jurassic World: Dominion Dominates Fandom Wikis - The Loop
Play Sound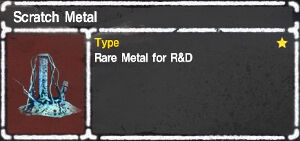 Scratch Metal is a rare Tuber Metal. It's used to develop a wide variety of equipment, especially in the 2- and 3-star range. The most used item in the game.
It's tempting to throw away Scratch Metal in the early game since it has little use before floor 11, but in the long run you will need a lot. Either keep your Scratch Metal until then, or make use of it by developing Texas Farmer Mask +, Special Forces' Beret E, and Special Forces' Vest E. All of these can be done with only materials from the first 10 floors.
Locations
[
]
Scratch Metal drops rarely from Scratch Tuber type enemies, which means it can be found on any floor that spawns Scratch Tubers. Heimo-Jima on floor 6 is an excellent area to find Scratch Metal, as it contains around 25 Scratch Tubers in a single corridor from escalator to escalator. If Heimo-Jima is not in rotation, 19F Chitose-Mei is another good option. It can easily be reached from the elevator on 20F Hachiyanma and tends to have a group of 7-10 Scratch Tubers very close to an escalator - though this escalator isn't always going to be the one from Hachiyanma.
Scratch Metal can be bought from the wandering shop, Gyakufunsha, for 10,000 KC.
Additionally, you can get Scratch Metal from certain types of Quests.
Alternatively, Tengoku is also a good way to obtain Scratch Metal as red named Haters above 51F drop Tuber Metals via Silver Treasure Chest drops.
Uses
[
]
For all non-Event gear, it currently takes 1967 Scratch Metal to complete its uses. Event gear uses an additional 34, for a complete total of 2001.
NOTE: Tier is a level of power typically based on the number of times equipment has changed forms, not the number of stars it has.