Overview
[
]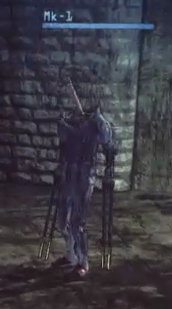 Scratch Tubers are a type of enemy in the Tower of Barbs that has a chance to drop Scratch Metal.
Meijin Tip - "The staring guys"
[
]
"The weird-headed guys in the tower? Scratch Tubers. If they raise both hands, watch out, or it's gonna hurt. I've never been hit by that, mind. There's 5 different colors for each tuber type. If you see one different from normal, take care!"
Locations
[
]
Scratch Tuber Locations:
| Level | Floor Name | MK1 | MK2 | MK3 | MK4 | MK5 |
| --- | --- | --- | --- | --- | --- | --- |
| 1 | IKEGARA | X | | | | |
| 2 | | | | | | |
| 3 | | | | | | |
| 4 | | | | | | |
| 5 | | | | | | |
| 6 | HEIMO-JIMA | X | | | | |
| 7 | Daneda | X | | | | |
| 8 | Niko-Senzoku | X | | | | |
| 9 | Yoshiki-Dani | X | | | | |
| 10 | Omeno-Soto | | X | | | |
| 11 | | | | | | |
| 12 | SEYANE | | X | | | |
| 13 | | | | | | |
| 14 | | | | | | |
| 15 | | | | | | |
| 16 | Kaga | | X | X | | |
| 17 | | | | | | |
| 18 | Temo-Uma | | | X | | |
| 19 | CHITOSE-MEI | | | X | | |
| 20 | NORA | | | X | | |
| 21 | AKAMI | | | X | | |
| 22 | KAWABE | | | X | | |
| 23 | HONKAWA | | | X | | |
| 24 | | | | | | |
| 25 | KANIE | | | X | | |
| | FUYUBASHI | | | X | | |
| 26 | OSHIMI | | | X | | |
| 27 | DOTEDORI | | | X | | |
| | SHINKO-BASHI | | | X | | |
| 28 | TOJIMA | | | X | X | |
| | HYAKKOKU | | | X | X | |
| 29 | HENKE | | | | X | |
| | HASHIDAKA | | | | X | |
| 30 | TOWADA | | | | X | |
| 31 | OBARA | | | | X | |
| 32 | KATSUMA | | | | X | |
| 33 | UCHINOBU | | | | X | |
| 34 | | | | | | |
| 35 | | | | | | |
| 36 | YATSUO | | | | | X |
| 37 | | | | | | |
| 38 | JIYU-TOGE | | | | | X |
| 39 | | | | | | X |
| 40 | | | | | | |
REDIRECT Enemies#Tubers