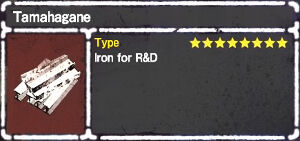 Tamahagane is an 8-Star Iron-type R&D Material for developing and upgrading weapons and armor at Choku-Funsha.
Locations
[
]
Tamahagane can rarely appear in Tengoku on Iron-specific floors above 80F.
May also be bought once-per-day in the Bloodnium Exchange for
2500.
Iron-specific Floors

| Floor | Name | Rotation |
| --- | --- | --- |
| 84F+ | TENGOKU | Iron-specific Floors:84F, 92F, 99F, 107F,114F, 122F, 129F, 137F,144F, 152F, 159F, 167F,174F, 182F, 189F, 197F,204F, 212F, 219F, 227F,234F, 242F, 249F, 257,264F, 272F, 279F, 287F,294F, 302F, 309F, 317F,324F, 332F, 339F, 347F |
Uses
[
]
For all non-Event gear, it currently takes 649 Tamahagane to complete its uses. Event gear uses an additional 30, for a complete total of 679.
NOTE: Tier is a level of power typically based on the number of times equipment has changed forms, not the number of stars it has.
Trivia
[
]
Tamahagane (玉鋼) is a traditional Japanese form of iron popularized in the 8th century. It was primarily used in the construction of weaponry and tools, most famously the katana. Most forms of Tamahagane are composed out of two parts: Iron-rich sand and carbon-rich charcoal, with a higher concentration of the former. It was and is still highly sought after as an exemplary type of iron.