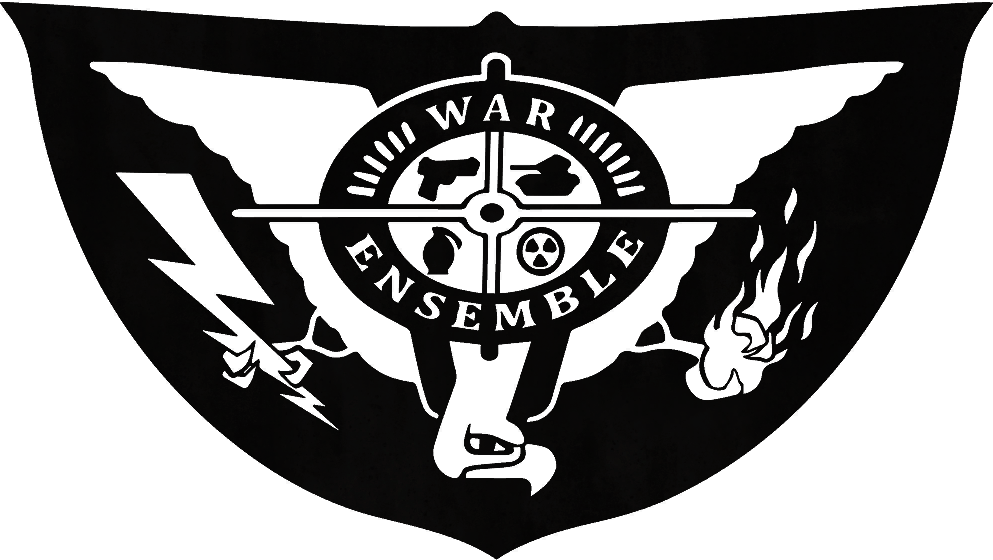 War Ensemble is a faction within the Tower of Barbs. Its leader is the 20th floor Don, Colonel Jackson.
Seven types of rare metal exist for this faction: War Ensemble Blue Metal, War Ensemble Green Metal, War Ensemble Black Metal, War Ensemble Red Metal, War Ensemble Purple Metal, War Ensemble Orange Metal, and War Ensemble Platinum Metal. War Ensemble metals can be obtained as drops by Colonel Jackson or JIN-DIE, found in the gold chest of any Trap Room, or bought from Gyaku-funsha they can also appear in Tengoku as well. They may also be awarded by Quests.
Equipment
[
]
There are currently 50 pieces of equipment (not including upgrades) classified as War Ensemble items. They tend to be military-themed, consisting largely of guns, blades, and soldier's gear.
Weapons
[
]
Tier 1 Base
Tier 2 Upgrade
Tier 3 Upgrade
Tier 4 Upgrade
Uncapped
Damage Type
★
Jungle Machete
★★
Jungle Machete E
★★★
Battle Machete
★★★★
Battle Machete E
★★★★
Battle Machete E
Slashing
★★
Butterfly Knife
★★★
Butterfly Knife E
★★★★
Combat Knife
★★★★★
Combat Knife E
★★★★★
Combat Knife E
Slashing
★
Glinty Magnum
★★
Glinty Magnum E
★★★
Bronson Magnum
★★★★
Bronson Magnum E
★★★★
Bronson Magnum E
Piercing
★★
Pitbull Shotgun
★★★
Pitbull Shotgun E
★★★★
Cerberus Shotgun
★★★★★
Cerberus Shotgun E
★★★★★
Cerberus Shotgun E
Piercing
★★
DUKE-02 Sniper Rifle
★★★
DUKE-02 Sniper Rifle E
★★★★
DUKE-13 Sniper Rifle
★★★★★
DUKE-13 Sniper Rifle E
★★★★★
DUKE-13 Sniper Rifle E
Piercing
★★
KAMAS-A1 Assault Rifle
★★★
KAMAS-A1 Assault Rifle E
★★★★
KAMAS-SP Assault Rifle
★★★★★
KAMAS-SP Assault Rifle E
★★★★★
KAMAS-SP Assault Rifle E
Piercing
★★
KAMAS-A1 Assault Rifle RE
★★★
KAMAS-A1 Assault Rifle E RE
★★★★
KAMAS-SP Assault Rifle RE
★★★★★
KAMAS-SP Assault Rifle E RE
★★★★★
KAMAS-SP Assault Rifle E RE
Piercing
★★
Stun Rod
★★★
Stun Rod E
★★★★
Stun Master
★★★★★
Stun Master E
★★★★★
Stun Master E
Blunt / Electric
★★★
M-404 Rocket Launcher
★★★★
M-404 Rocket Launcher E
★★★★★
M-844 Rocket Launcher
★★★★★★
M-844 Rocket Launcher E
★★★★★★
M-844 Rocket Launcher E
Piercing / Fire
★★★
Tactical Shovel
★★★★
Tactical Shovel E
★★★★★
Special Forces Shovel
★★★★★★
Special Forces Shovel E
★★★★★★
Special Forces Shovel E
Slashing
★★★
FFWF-103 Flamethrower
★★★★
FFWF-103 Flamethrower E
★★★★★
FFWF-285 Flamethrower
★★★★★★
FFWF-285 Flamethrower E
★★★★★★
FFWF-285 Flamethrower E
Piercing / Fire
★★★
Pulse Stun Gun
★★★★
Pulse Stun Gun E
★★★★★
Pulse Tron Stun Gun
★★★★★★
Pulse Tron Stun Gun E
★★★★★★
Pulse Tron Stun Gun E
Piercing / Electric
Head Armor
[
]
Tier 1 Base
Tier 2 Upgrade
Tier 3 Upgrade
Tier 4 Upgrade
Uncapped
HP
STM
STR
DEX
VIT
LUK
★★
Assault Force Head
★★★
Assault Force Head E
★★★★
Assault Master Head
★★★★★
Assault Master Head E
★★★★★
Assault Master Head E
+5%
-
-
+9%
-
-
★
Dark Ryback Mask
★★
Dark Ryback Mask E
★★★
Officer Ryback Mask
★★★★
Officer Ryback Mask E
★★★★
Officer Ryback Mask E
+5%
+5%
-
-
-
-
★★
Phantom Soldier Head
★★★
Phantom Soldier Head E
★★★★
Phantom Commando Head
★★★★★
Phantom Commando Head E
★★★★★
Phantom Commando Head E
-
-
-
+9%
+5%
-
★★
Night Scout Head
★★★
Night Scout Head E
★★★★
Night Raider Head
★★★★★
Night Raider Head E
★★★★★
Night Raider Head E
-
-
-5%
+12%
-
-
★
Special Forces' Beret
★★
Special Forces' Beret E
★★★
Captain's Beret
★★★★
Captain's Beret E
★★★★
Captain's Beret E
-
-
+5%
-
+9%
-
★★★
Iron Eagle Head
★★★★
Iron Eagle Head E
★★★★★
Iron Falcon Head
★★★★★★
Iron Falcon Head E
★★★★★★
Iron Falcon Head E
+9%
-
-
+9%
-
-
★★★
Iron Eagle Head RE
★★★★
Iron Eagle Head E RE
★★★★★
Iron Falcon Head RE
★★★★★★
Iron Falcon Head E RE
★★★★★★
Iron Falcon Head E RE
+9%
-
-
+16%
-
-
★★
Barrett Punisher Head
★★★
Barrett Punisher Head E
★★★★
Skull Punisher Head
★★★★★
Skull Punisher Head E
★★★★★
Skull Punisher Head E
-
-
-
+5%
+9%
-
★
Guerrilla Blaster Head
★★
Guerrilla Blaster Head E
★★★
Raven Blaster Head
★★★★
Raven Blaster Head E
★★★★
Raven Blaster Head E
+5%
-
+9%
-
-5%
-
★★★
Silent Sniper Head
★★★★
Silent Sniper Head E
★★★★★
Ghost Sniper Head
★★★★★★
Ghost Sniper Head E
★★★★★★
Ghost Sniper Head E
-
-
+9%
+9%
+5%
-
★★★
Combat Diver Head
★★★★
Combat Diver Head E
★★★★★
Storm Diver Head
★★★★★★
Storm Diver Head E
★★★★★★
Storm Diver Head E
-
-12%
+9%
+9%
+9%
-
★★★
Exo-armor Head
★★★★
Exo-armor Head E
★★★★★
Exo-combat Head
★★★★★★
Exo-combat Head E
★★★★★★
Exo-combat Head E
-
-
-5%
+12%
+8%
-
Body Armor
[
]
Tier 1 Base
Tier 2 Upgrade
Tier 3 Upgrade
Tier 4 Upgrade
Uncapped
★★
Assault Force Body
★★★
Assault Force Body E
★★★★
Assault Master Body
★★★★★
Assault Master Body E
★★★★★
Assault Master Body E
-13%
-9%
+9%
+5%
-5%
+9%
★
Dark Ryback Body
★★
Dark Ryback Body E
★★★
Officer Ryback Body
★★★★
Officer Ryback Body E
★★★★
Officer Ryback Body E
-9%
+5%
+5%
+5%
-5%
+9%
★★
Phantom Soldier Body
★★★
Phantom Soldier Body E
★★★★
Phantom Commando Body
★★★★★
Phantom Commando Body E
★★★★★
Phantom Commando Body E
-9%
-9%
+9%
+5%
-5%
+13%
★★
Night Scout Body
★★★
Night Scout Body E
★★★★
Night Raider Body
★★★★★
Night Raider Body E
★★★★★
Night Raider Body E
-9%
+5%
+9%
+5%
-9%
+5%
★
Special Forces' Vest
★★
Special Forces' Vest E
★★★
Captain's Vest
★★★★
Captain's Vest E
★★★★
Captain's Vest E
-9%
-5%
+9%
+5%
-5%
-9%
★★★
Iron Eagle Body
★★★★
Iron Eagle Body E
★★★★★
Iron Falcon Body
★★★★★★
Iron Falcon Body E
★★★★★★
Iron Falcon Body E
-5%
-9%
+9%
+5%
-9%
+9%
★★★
Iron Eagle Body RE
★★★★
Iron Eagle Body E RE
★★★★★
Iron Falcon Body RE
★★★★★★
Iron Falcon Body E RE
★★★★★★
Iron Falcon Body E RE
-
-
+9%
+5%
-
+9%
★★
Barrett Punisher Body
★★★
Barrett Punisher Body E
★★★★
Skull Punisher Body
★★★★★
Skull Punisher Body E
★★★★★
Skull Punisher Body E
-9%
-9%
+13%
+5%
-5%
+5%
★
Guerrilla Blaster Body
★★
Guerrilla Blaster Body E
★★★
Raven Blaster Body
★★★★
Raven Blaster Body E
★★★★
Raven Blaster Body E
-9%
-9%
+13%
+5%
-5%
+9%
★★★
Silent Sniper Body
★★★★
Silent Sniper Body E
★★★★★
Ghost Sniper Body
★★★★★★
Ghost Sniper Body E
★★★★★★
Ghost Sniper Body E
-9%
+5%
+13%
-13%
-5%
-5%
★★★
Combat Diver Body
★★★★
Combat Diver Body E
★★★★★
Storm Diver Body
★★★★★★
Storm Diver Body E
★★★★★★
Storm Diver Body E
-9%
-9%
+9%
-
+5%
+9%
★★★
Exo-armor Body
★★★★
Exo-armor Body E
★★★★★
Exo-combat Body
★★★★★★
Exo-combat Body E
★★★★★★
Exo-combat Body E
-9%
+9%
+13%
-9%
-9%
+5%
Leg Armor
[
]
Tier 1 Base
Tier 2 Upgrade
Tier 3 Upgrade
Tier 4 Upgrade
Uncapped
★★
Assault Force Pants
★★★
Assault Force Pants E
★★★★
Assault Master Pants
★★★★★
Assault Master Pants E
★★★★★
Assault Master Pants E
-13%
-9%
+9%
+5%
-5%
+9%
★
Dark Ryback Pants
★★
Dark Ryback Pants E
★★★
Officer Ryback Pants
★★★★
Officer Ryback Pants E
★★★★
Officer Ryback Pants E
-9%
+5%
+5%
+5%
-5%
+9%
★★
Phantom Soldier Pants
★★★
Phantom Soldier Pants E
★★★★
Phantom Commando Pants
★★★★★
Phantom Commando Pants E
★★★★★
Phantom Commando Pants E
-9%
-9%
+9%
+5%
-5%
+13%
★★
Night Scout Pants
★★★
Night Scout Pants E
★★★★
Night Raider Pants
★★★★★
Night Raider Pants E
★★★★★
Night Raider Pants E
-9%
+5%
+9%
+5%
-9%
+5%
★
Special Forces' Pants
★★
Special Forces' Pants E
★★★
Captain's Pants
★★★★
Captain's Pants E
★★★★
Captain's Pants E
-9%
-5%
+9%
+5%
-5%
-9%
★★★
Iron Eagle Pants
★★★★
Iron Eagle Pants E
★★★★★
Iron Falcon Pants
★★★★★★
Iron Falcon Pants E
★★★★★★
Iron Falcon Pants E
-5%
-9%
+9%
+5%
-9%
+9%
★★★
Iron Eagle Pants RE
★★★★
Iron Eagle Pants E RE
★★★★★
Iron Falcon Pants RE
★★★★★★
Iron Falcon Pants E RE
★★★★★★
Iron Falcon Pants E RE
-
-
+9%
+5%
-
+9%
★★
Barrett Punisher Pants
★★★
Barrett Punisher Pants E
★★★★
Skull Punisher Pants
★★★★★
Skull Punisher Pants E
★★★★★
Skull Punisher Pants E
-9%
-9%
+13%
+5%
-5%
+5%
★
Guerrilla Blaster Pants
★★
Guerrilla Blaster Pants E
★★★
Raven Blaster Pants
★★★★
Raven Blaster Pants E
★★★★
Raven Blaster Pants E
-9%
-9%
+13%
+5%
-5%
+9%
★★★
Silent Sniper Pants
★★★★
Silent Sniper Pants E
★★★★★
Ghost Sniper Pants
★★★★★★
Ghost Sniper Pants E
★★★★★★
Ghost Sniper Pants E
-9%
+5%
+13%
-13%
-5%
-5%
★★★
Combat Diver Pants
★★★★
Combat Diver Pants E
★★★★★
Storm Diver Pants
★★★★★★
Storm Diver Pants E
★★★★★★
Storm Diver Pants E
-9%
-9%
+9%
-
+5%
+9%
★★★
Exo-armor Pants
★★★★
Exo-armor Pants E
★★★★★
Exo-combat Pants
★★★★★★
Exo-combat Pants E
★★★★★★
Exo-combat Pants E
-9%
+9%
+13%
-9%
-9%
+5%