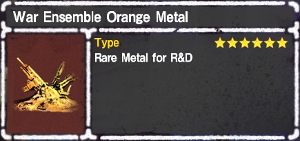 War Ensemble Orange Metals are 6-Star Faction Metals for developing and upgrading weapons and armor at Choku-Funsha.
Locations
[
]
Orange Metals only appear in Tengoku. They can appear right away as a "rare" Legendary Chest reward, but become a "common" reward above 100F. They can appear as Gold Chest rewards at any point, and can drop directly from either Treasure Tubers or the corresponding faction Mid-Boss. Gold Chests from Hardcore Haters can drop them at any floor, but at a much, much lower rate.
Can be bought for
7000 Bloodnium in the Bloodnium Exchange, or with

14 (for x1) / 56 (for x5) Death Metals if appearing in the daily Hernia lineup.
Can be received as a reward from annual Event Quests or Platinum Lost Bags.
Available Floors

| Floor | Name | Rotation | Notes |
| --- | --- | --- | --- |
| 55F+ | TENGOKU | ALL | Every 5th floor (55, 60, 65 etc.). |
Uses
[
]
For all non-Event gear, it currently takes 1129 War Ensemble Orange Metal to complete its uses. Event gear uses an additional 282, for a complete total of 1411.
NOTE: Tier is a level of power typically based on the number of times equipment has changed forms, not the number of stars it has.